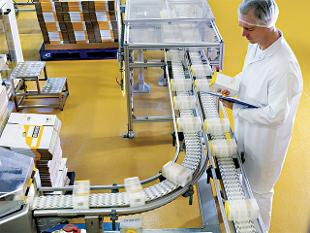 Pharmaceutical
The Demineralised Water (DM) contains a lot of bacteria which need to be removed before the water is used for the manufacturing of drugs. This contamination can be effectively removed by ozone.
Textile Industries
Textile, dying & printing industry waste water is a colored effluent with high COD & BOD. In many countries it is prohibited to dispose colored & high COD water into environment or even in common effluent treatment plants. Many times due composition of colored effluent it is difficult to bring down color & COD in textile effluent. Ozone is applied in textile effluent for colour removal or odor reduction. Either ozone is applied in primary stage or tertiary stage of effluent treatment plant.
Winery & Distilleries
Ozone is especially effective against fungi and bacteria, which are the main cause of degradation of vines. Ozone is very efficient against these microorganisms, which are able to propagate and reproduce in harsh and extreme conditions.

Ozone has a very powerful and strong oxidation capability and therefore destroys organic waste by oxidizing it. It is also very environmentally friendly, as it does not leave behind any harmful residues and reverts back to oxygen unlike pesticides, fertilizers, and additives used from growing crops. Use of dissolved ozone water for irrigation ensures that plants will grow more vigorously and will be healthier, free from any kind of contagious diseases.
Odour Removal
The Odour free will oxidize unwanted odors in your facility. Ozone generators create O3, or ozone, which disburses into the space to be treated. O3 attacks odor causing substances at their source to permanently remove odors in the treatment area.
Semiconductor
Miden Pure Ozone Generator is a unit that liquefies and stores the ozone gas and supplies high-purity ozone gas continuously. Because of high purity ozone level, it can be used as an oxygen radical generation source for a semiconductor process. For safety, the unit has sufficient safety measures.
Sugar Industries
A method that uses ozone for the decolorization step in cane sugar refining is presented. It concerns an important and new application of ozone in the field in the cane sugar industry. Very efficient decolorization of clarified liquors was obtained at different scales. To obtain satisfactory decolorization, suitable treatment operation conditions were established. In the pilot plant study, refined sugar of high purity was obtained, which fulfilled the international quality requirements. At the laboratory scale, a kinetic study for the process has been developed in a continuous system with the use of Danckwert's model.
Paper & Pulp Industries
In pulp and paper industry during paper production large amount of waste water is generated. The effluent from these industries may contain high levels of BOD, COD, TOC and colour producing compounds.
Cooling Towers
The circulating water of cooling tower systems has always been an ideal place for growth of microorganisms. The warm temperature of the water and the addition of nutrients from the scrubbed air flowing through the tower provide a virtual nirvana for all sorts of microbes and algae. In turn, these organisms multiply at fantastic rates. The result is degraded system efficiency due to blockage of flow, shortened equipment life due to corrosion, increased operating cost due to higher pumping power requirements, and the spread of disease or even death.
ETP & STP
We are a Manufacturer & Worldwide Exporter of Ozone Generators for Water Treatment, Wastewater Treatment Solutions and Indoor Air Treatment Solutions. Ozonators' ranging from 2gm/hr – 1kg/hr. For higher capacity we offer multiple series.